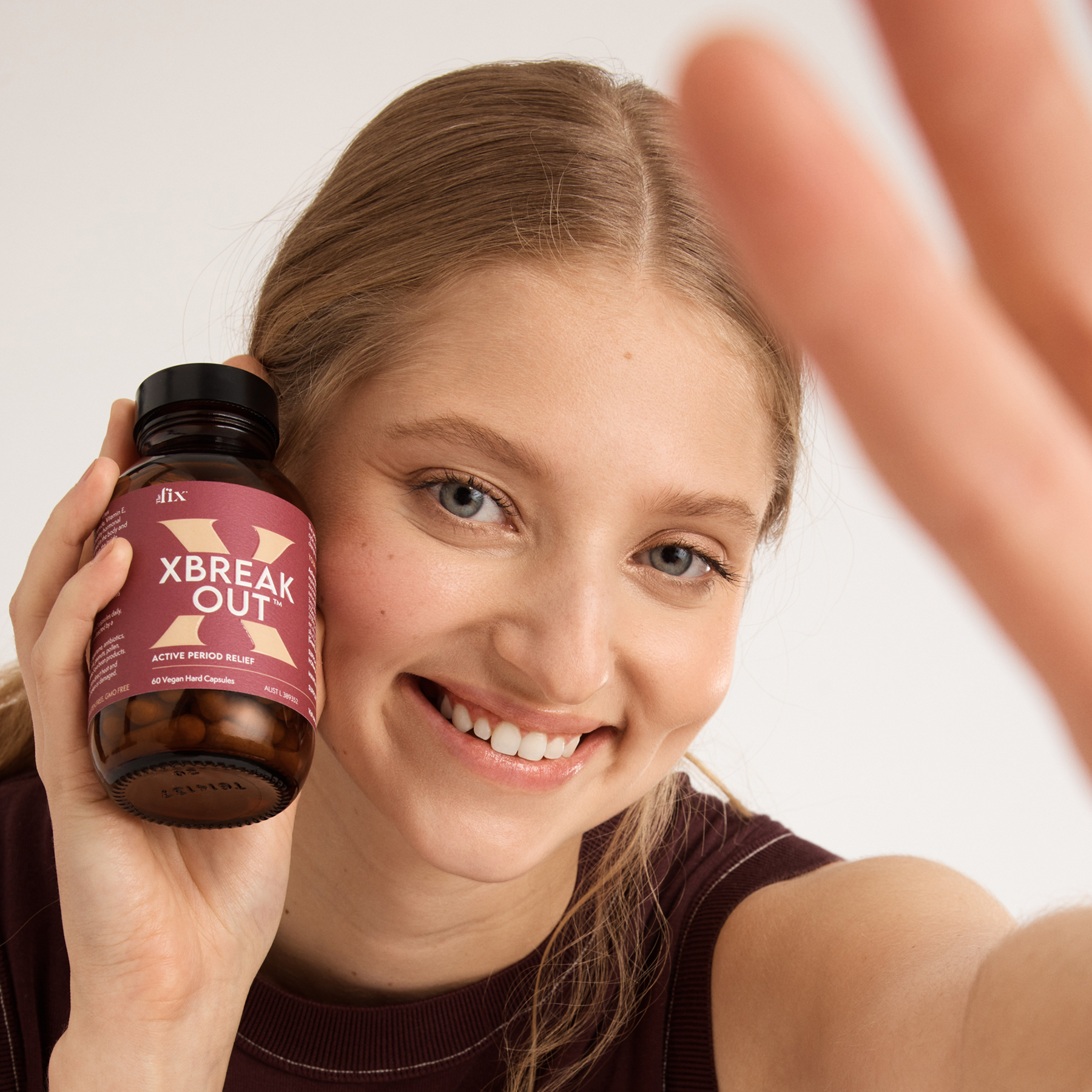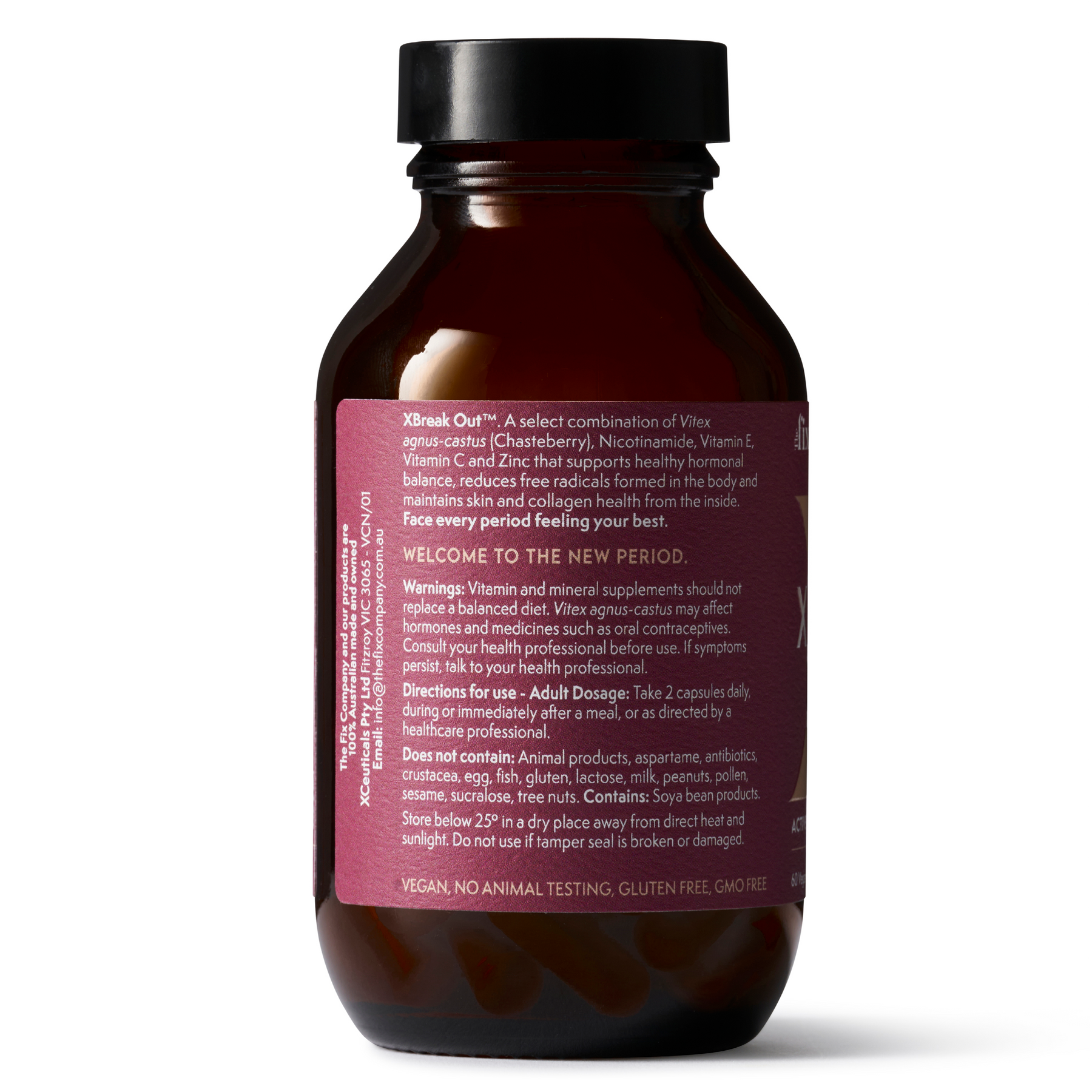 XBreakout™
Taking control of your breakouts.
A powerful & proven blend to maintain skin and collagen health from the inside, support healthy hormonal balance and reduce free radicals formed in the body.
Formulated with a powerful & proven, select combination of Chasteberry, Nicotinamide, Vitamin E, Vitamin C and Zinc.
Maintain skin health 
Support female healthy hormonal balance 
Support healthy immune system function 
60 caps
NOTE: We know that supplements affect everyone differently. Many of the ingredients in XBreakout will begin to have an effect on your body soon after you take them, but each ingredient will need to build up before you can see a physical difference. We advise it could take 10-12 weeks for this to occur.
How it will help you:
Maintain/support skin health
Maintain/support collagen health
Maintain/support female healthy hormonal balance
Antioxidant/reduce free radicals formed in the body
Maintain/ support healthy immune system function
Maintain/support general health and wellbeing Decrease/reduce/relieve symptoms of premenstrual symptom
Directions for use:
Take 2 capsules daily, during or immediately after a meal, or as directed by a healthcare professional.
Warnings:
Vitamin and mineral supplements should not replace a balanced diet. Vitex agnus-castus may affect hormones and medicines such as oral contraceptives. Consult your health professional before use
Does not contain:
Animal products, aspartame, antibiotics, crustacea, egg, fish, gluten, lactose, milk, peanuts, pollen, sesame, sucralose, tree nuts. Contains: Soya bean products.
Active Ingredients per tablet:
zinc citrate dihydrate 38.89mg, equivalent zinc 12.5mg; nicotinamide 25mg; d-alpha-tocopheryl acid succinate 20.56mg, equivalent Vitamin E 24.90 IU; astaxanthin esters extracted from Haematococcus pluvialis 29.1mg, equivalent astaxanthin 3mg; Vitex agnus-castus fruit ext. dry conc. (Chasteberry) 7.5mg, from 750mgdry fruit; ascorbic acid (Vitamin C) 50mg; calcium pantothenate 27.18mg, equivalent pantothenic acid (Vitamin B5) 25mg; Vitis vinifera seed ext. dry conc. (Grape Vine) 12.5mg, from 1.5g dry seed; colloidal anhydrous silica 21.45 mg, equivalent silicon 10mg; Arctium lappa root ext. dry conc. (Great Burdock) 150 mg, from 600mg dry root; betacarotene 3mg.
MY SUPER SKIN SECRET
I'm a 45 year old woman with great skin - until this year! I've been plagued by breakouts each month and its been killing me. I started taking X Breakout earlier this year and not only have my zits gone, but they've been replaced by a bucket-load of compliments from everyone around me about my glowy skin. I'm hooked.
A Great Success
I wish this product had been around in my 20's. I've had terrible hormonal acne every cycle for years and now finally my skin is clear and calm. No red angry craters for me anymore. Couldn't recommend this product enough. 5/5 stars
Finally no teenager skin
I felt like I never made it out of puberty when I got my period… breakouts all over my face! But with this… it was just amazing. Nothing! Not even a single dot on my face! Throughout the entire cycle, not just during my period! Amazing product!!
WOW
Honestly I take it every day, my skin has never looked so clear in its life ! I dont want to stop.
I'm honestly obsessed!!! Thank you so much!!!
Love it!
I've always been prone to very congested, inflamed and sometimes 'angry' looking skin in the lead up to my period, but once I started taking The Fix XBreakout I definitely noticed changes.. It helped to clear out the little but numbered breakouts I would get and in general my skin felt clearer and less clogged up.