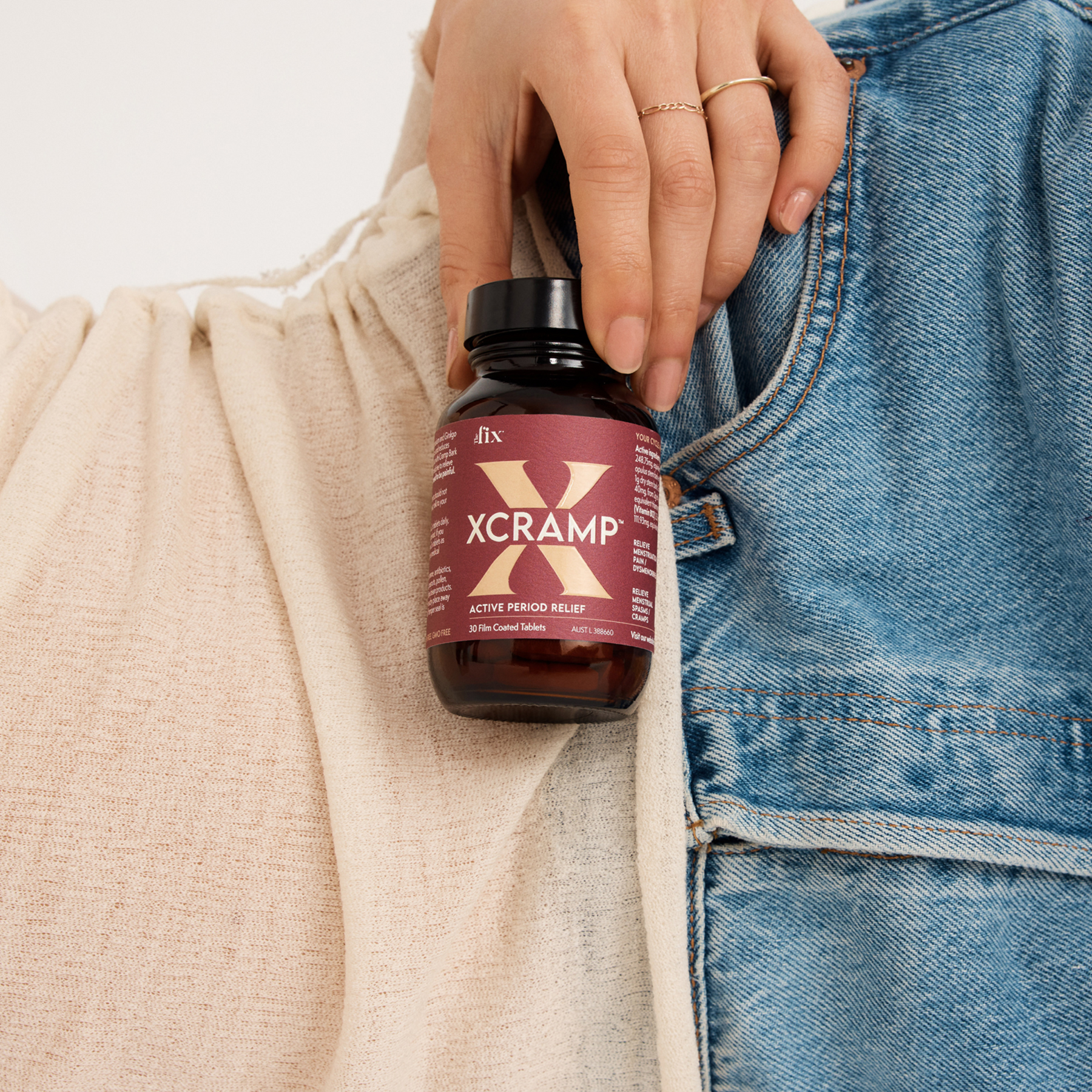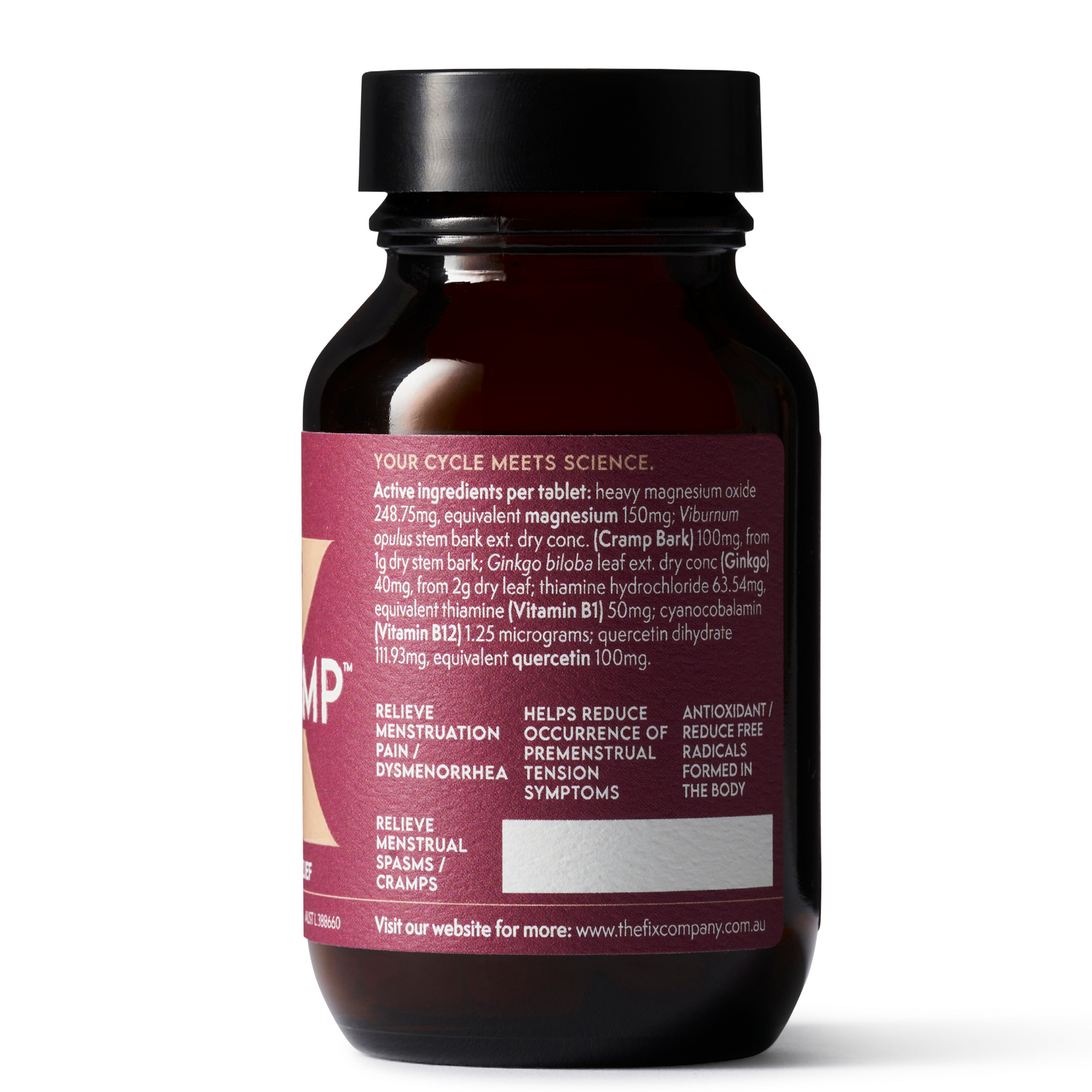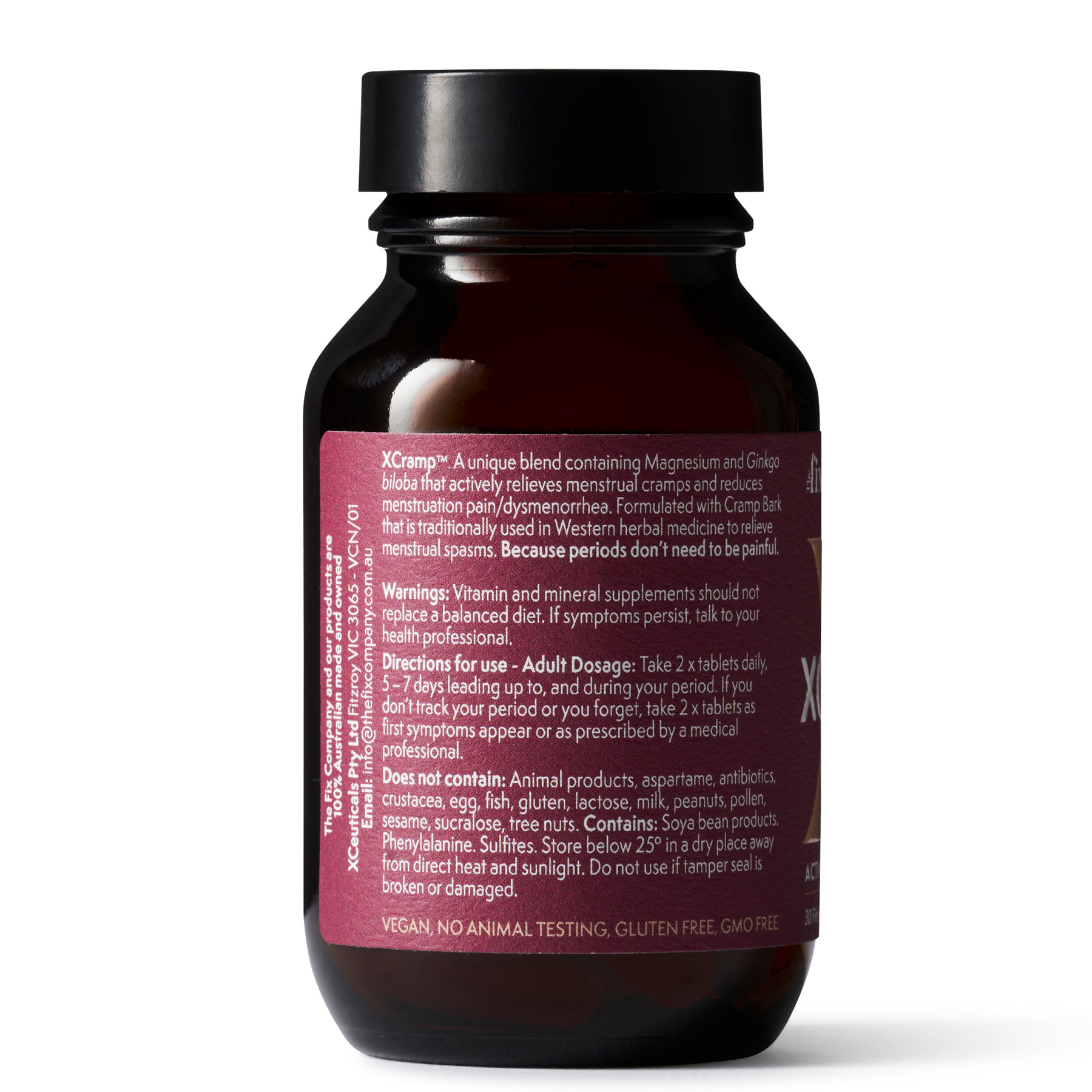 XCramp™
Taking control of your cramps.
A powerful & proven blend that actively relieves menstrual cramps and reduces menstruation pain/dysmenorrhea.
To be taken 7 days before and during your monthly period. Formulated with Magnesium, Ginkgo biloba (Ginkgo), Viburnum opulus (Cramp Bark). 
Traditionally used in Western herbal medicine to relieve menstrual spasms/cramps
Helps reduce occurrence of premenstrual tension symptoms
Relieve menstruation pain/dysmenorrhea
30 Film Coated tablets
How it will help you:
Decrease/reduce/ relieve menstrual spasms/cramps
Decrease/reduce/ relieve menstruation pain/dysmenorrhea
Traditionally used in Western herbal medicine to decrease/ reduce/relieve menstrual spasms/ cramps
Helps reduce occurrence of premenstrual tension symptoms
Maintain/support general health and wellbeing Antioxidant/reduce free radicals formed in the body
Directions for use:
Take 2 x tablets daily, 5 – 7 days leading up to, and during your period. If you don't track your period or you forget, take 2 x tablets as first symptoms appear or as prescribed by a medical professional.
Warnings:
Vitamin and mineral supplements should not replace a balanced diet. If symptoms persist, talk to your health professional.
Does not contain:
Animal products, aspartame, antibiotics, crustacea, egg, fish, gluten, lactose, milk, peanuts, pollen, sesame, sucralose, tree nuts. Contains: Soya bean products. Phenylalanine. Sulfites.
Active Ingredients per tablet:
heavy magnesium oxide 248.75mg, equivalent magnesium 150mg; Viburnum opulus stem bark ext. dry conc. (Cramp Bark) 100mg, from 1g dry stem bark; Ginkgo biloba leaf ext. dry conc (Ginkgo) 40mg, from 2g dry leaf; thiamine hydrochloride 63.54mg, equivalent thiamine (Vitamin B1) 50mg; cyanocobalamin (Vitamin B12) 1.25 micrograms; quercetin dihydrate 111.93mg, equivalent quercetin 100mg.
Absolutely amazing!
XCramp is a wonder tablet! It has helped reduce my menstrual cramps AND my post-gym/workout cramps (what a bonus!). I used to take another brand for magnesium, yet now take this and keep it in easy reach. Absolutely LOVE it!
Such a game changer!!!
This product has truly changed my life! I used to have the worst period cramps and that would totally interult my life. Now as long as I've got XCramp I am finally pain free!! Honestly changed my life dramatically!! I am so thankful for this product!!
Better than expected
This product works better than expected- I have cramps that often make me unable to get out of bed or go to work. I usually rely on pain medications but wanted to try something more natural. I was positively surprised by the results- they didn't totally eradicate my pain but did make a difference. I'm also on the pill to manage period symptoms because I have PCOS but I'm hoping to come off that soon - that'll be the true test of XCramp - prior to being on the pill I used to vomit from period pain.
Magnificent Product
Just wanted to say this is an amazing product. I am so glad I found you guys. I used the product for the first time for my cycle and it absolutely worked !!! I suffer from endometriosis and a recently I had stage 4 endometriosis. This is really helping me with the pain I had almost no pain today. I took 2 tablets on Sunday and 2 yesterday and today of the actual period another 2.My lower back still tender but other than that pretty awesome. I am honestly impressed and blessed this product is available. No more need to pop pain killers. This is a game changer for all woman in the world hope you guys go international. Thank you 😊
Holy Sh*t!!!!!!
I tried XCramp this week for the first time and OMG, this stuff actually seriously works! I often wake up with cramps in the lead up to and during my period, after one small cramp on Wednesday I've been taking 2 XCramp with breakfast and 2 more with lunch, and I am seriously pain free. Not joking. The intense stabbing pain is totally gone and I haven't even looked at a packet of Nurofen or Panadol. Genuinely game changing! Anyone with a period must get onto this stuff!